Patience (After Sebald) by Grant Gee

Opening in the UK 27th January 2012
Grant Gee's multi-layered film on WG Sebald, the East Anglian landscape, life and loss.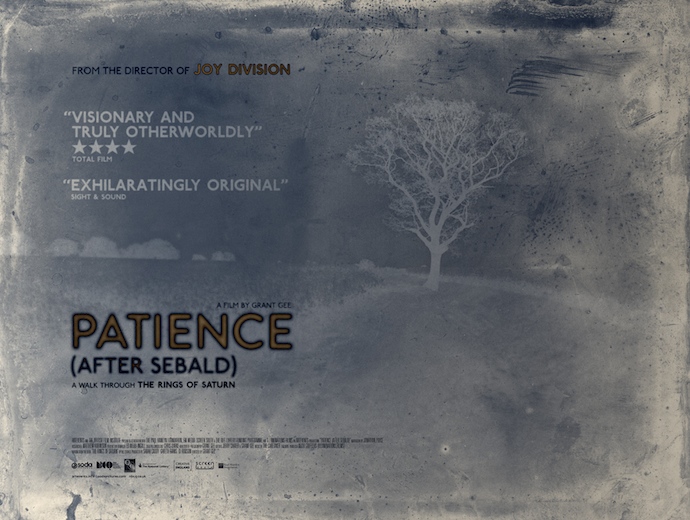 STOP PRESS: We're very pleased to announce that Patience is being released in the UK by leading independent distributors Soda Pictures on Friday 27th January, at the ICA cinema, London; Curzon Renoir, Curzon Wimbledon and around the country, as part of their important initiative, The New British Cinema Quarterly.
Following premieres at New York and Vancouver Film Festivals last Autumn, it will also be distributed in the United States in late April by Cinema Guild.
Patience will also be premiering in Europe at the important Rotterdam International Film Festival in early February, with other international screenings imminent.
Join our mailing list to be kept informed of screenings as they occur.
Patience (After Sebald) is a multi-layered film essay on landscape, art, history, life and loss by the acclaimed documentary film-maker Grant Gee. It is an exploration of the work and influence of German writer WG Sebald (1944 – 2001), told via a long walk through coastal East Anglia tracking his most famous book The Rings of Saturn. The book mixed history, travelogue, memoir, meditation, fiction and images to explore the personal, public and often overlooked histories of Suffolk.
Sebald has profoundly influenced some of today's leading writers, thinkers and artists. Some of these – interviewed for the film include Adam Philips, Robert Macfarlane, Rick Moody and Tacita Dean.
Patience (After Sebald) premiered at Aldeburgh Music, Snape in January 2011, in a weekend of Sebaldian activity including an exclusive new work performed live by leading artist Patti Smith and a walk at the National Trust site Orford Ness. Click here for photographs and reviews of the weekend.
Grant Gee has twice been Grammy-nominated; for Meeting People Is Easy – about Radiohead – in 2000 and Demon Days – about Gorillaz – in 2006. His documentary Joy Division won the prestigious Grierson Award 2008 for Best Cinema Documentary. See www.grantgee.com.
Patience is supported by the Paul Hamlyn Foundation, the National Lottery through Arts Council England, UK Film Council, Screen East and Screen South.
Related
Screenings:
Reviews: